Albums
D R E A M F A L L
Released May 26 2015 on New Amsterdam Records
Dreamfall stakes out a striking new landscape for NOW Ensemble. Ranging from ferocious and grooving to meditative and beautiful, the album is similar to the life of the ensemble itself over the past few years: pulsing with an urgent message, a desire to open up, be heard, and to share the sounds of unmediated musical worlds.
For the past 10 years, NOW Ensemble has worked tirelessly to craft a tightly-honed aesthetic. Dreamfall is the sound of the group letting go of the reins just a little and allowing a more free exchange between the conscious and subconscious. In the liner notes for the album, NOW Ensemble composer and guitarist Mark Dancigers explains that "dreamfall" is an outlook on the world. He writes: "It is a state of immense freedom... The sounds on this record reflect this freedom, this sense of something a little out of our hands, and, beyond all else, the practice of making music that is NOW Ensemble."
Tracks:
Still in Here - Scott Smallwood
Dreamfall I, II, III - Mark Dancigers
Divine the Rest - John Supko
Transatlantic Flight of Fancy - Nathan Williamson
Pale as Centuries - Sarah Kirkland Snider
Trust Fall - Andrea Mazzariello
City Boy - Judd Greenstein
Personnel:
Flute - Alex Sopp
Clarinet - Sara Budde
Electric Guitar - Mark Dancigers
Double Bass - Logan Coale
Piano - Michael Mizrahi
Tracked, mixed, and mastered by Jesse Lewis
Produced by esse Lewis
=============================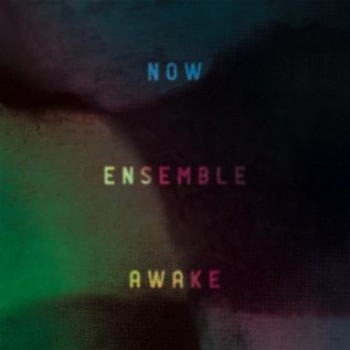 Awake
Released April, 2011 on New Amsterdam Records.
In August 2010, we went back to the "studio", an acoustically amazing church in northern New Jersey, with sound engineer Jesse Lewis to record our second album. The resonant, shimmering yet dark acoustic of the space perfectly matched the aesthetic of the album repertoire, contributed by in-house composers Burke, Dancigers, and Greenstein, as well as our good friends David Crowell, Sean Friar, and Missy Mazzoli. After a profile on NPR's Weekend Edition,
Awake
reached #1 on Amazon's Classical Chamber Music Chart and posted in the top 5 on the iTunes Classic Charts.
"Album of the Month...an energetic, enthralling showcase of modern chamber music...The real triumph of the album, however, is the personality that the ensemble brings to each of the compositions...Awake solidifies NOW Ensemble's place as a serious player in the field of modern composition."
- The Silent Ballet
"...there's an obvious challenge in the music's mix of old, new and the exotic, and one that is rewarded by repeated listening as its interweaving of superficially contrary elements coalesce into something fresh and vibrant."
- The Classical Review
"...an album that offers a lot of engaging new music, as well as one piece I am sorely tempted to call a masterpiece."
- The Boston Globe
"Album of the Week"
- WQXR's Q2
"music [that] speaks very eloquently for itself"
- The Bangkok Post
"Throughout Awake, simple and complex repetitions are deftly woven together, forming patterns that engage listeners while urging their ears to dig deeper, layer by layer."
- Alarm Press
"If you're not smiling by the end, try Prozac."
- Sequenza 21
"Ovations [are] sure to greet the release of NOW's forthcoming second album, Awake."
- The New Haven Advocate
Tracks:
Change - Judd Greenstein
Velvet Hammer - Sean Friar
Magic with Everyday Objects - Missy Mazzoli
Burst - Mark Dancigers
Waiting in the Rain for Snow - David Crowell
Awake - Patrick Burke
Personnel:
Flute - Alex Sopp
Clarinet - Sara Budde
Electric Guitar - Mark Dancigers
Double Bass - Logan Coale
Piano - Michael Mizrahi
Tracked, mixed, and mastered by Jesse Lewis
Produced by Judd Greenstein and Jesse Lewis
========================
NOW
Released January 2008 on New Amsterdam Records.
With seven pieces from our core repertoire, our debut album represents a body of work that we think redefines chamber music for the 21st century. After a sold-out record release show at Joe's Pub,
NOW
was released to warm reviews from the Washington Post, Time Out New York, and the AllMusic guide.
"5 Stars"
-Time Out New York, Time Out Chicago
"More of this is demanded, not requested."
- AllMusic
"...plenty deep enough to be dredged on multiple passes without crawling up inside its head so far it misplaces the soul."
- The Washington Post
"...the formal elegance of chamber music with a pop-honed concision and rhythmic vitality"
- Time Out New York
Tracks:
Folk Music-Judd Greenstein
Hypno-germ-Patrick Burke
Hanging There-Mark Dancigers
All Together Now-Patrick Burke
How About Now-Nico Muhly
Cloudbank-Mark Dancigers
Sing Along-Judd Greenstein
Personnel:
Flute - Alex Sopp
Clarinet - Sara Budde
Electric Guitar - Mark Dancigers
Double Bass - Peter Rosenfeld
Piano - Michael Mizrahi
Produced, tracked, mixed by Dan Bora
Mastered by Hector Castillo